Company profile - History
---
The company was founded in 1964, since when it has been operating in its present facilities for the recycling of all types of metal waste (ferrous and non-ferrous scrap metal).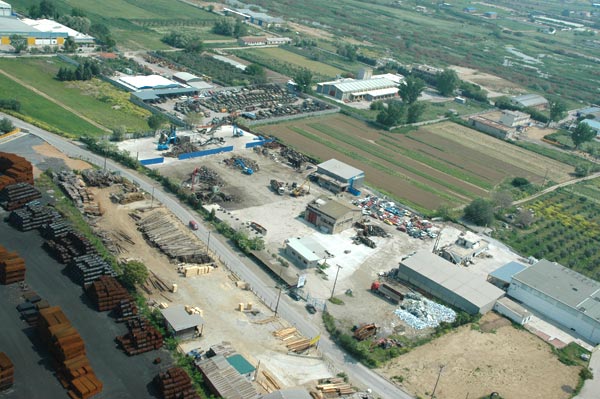 The company's headquarters are located at the 11th km of the Thessaloniki - Veria Old National Road (at the height of Sindos junction) within the Industrial Zone.
It operates in privately-owned facilities occupying an area of around 25,000 sq. m, 5,000 sq. m of which comprise covered spaces and warehouses to serve its needs.
The facilities in their entirety are fenced off, with trees around the perimeter, and covered with waterproof reinforced concrete to prevent any pollution of the ground and, by extension, contamination of the ground water from potential agents.
In the five-year-period 2005-2010, an investment plan amounting to 3.5 million euro was completed. Mechanical equipment was installed for the recycling of scrap metal such as End of Life Vehicles (ELVs), waste electrical and electronic equipment (WEEE), metal packaging and metal waste originating from dismantling and demolition. Specifically, these investments included the creation of special covered spaces, the installation of decontamination equipment for ELVs and WEEE and the installation of a compression and cutting machine to reduce the volume of ELVs and WEEE. They also included the installation of a shredder and eddy current automatic sorting line for the separation of ferrous metals from non-ferrous ones and from processing residues. In addition, the company's installations together with its mechanical equipment have the capacity for processing all other types of metal waste originating from municipalities or enterprises of the broader public sector, from private individuals or private companies.
The materials originating from these sources are usually household appliances and other utilitarian metal objects, metal door and window frames, agricultural machinery, trucks, forklifts, electric motor-generators, cables and old machinery.
The total annual production capacity is around 60,000 tonnes, 35-40% of which comprises old non-ferrous metals and, 60-65%, ferrous metals. The company also carries out export activities which amount to 35-40% of its turnover. The destination countries of the secondary raw materials it produces are usually the EU countries and those of the Far East (China, India, etc.). Finally, in recent years the company's operations have been brought in full compliance with EU and national environmental legislation.
The company implements systems certified according to ΕΝ ISO 9001 – EN ISO 14001 TUV AUSTRIA HELLAS, it has been a member of the Panhellenic Association of Scrap Metal Recyclers (PSAMA) since 2008, and is a member of the European Recycling Industries' Confederation (EuRIC) and of the European Ferrous Recovery & Recycling Federation (EFR).